Kelpies get ready for Edinburgh International Book Festival
Posted on 19/07/2012 in Edinburgh International Book Festival
Have you heard of Edinburgh International Book Festival? Every August, authors, poets and illustrator (to name a few) from all over the world can be found in tents in Edinburgh for a few weeks packed with book events.
Kelpies authors are doing lots of exciting events at the festival this year. Lynne Rickards will be entertaining with her picture book Lewis Clowns Around, about Lewis the puffin who flies off to join the circus, and has lots of adventures as a clown. We can't promise that Lynne will do any cartwheels, but Lewis and his circus friends are sure to be entertaining for little ones.
Calling all cat lovers: Margaret Forrester will introduce Mac the stripy cat from her books The Cat Who Decided and My Cat Mac. Mac is looking for a new home and a family to love him, will he find it in a tall house in Edinburgh?
If you're a ballet dancer, or any kind of dancer, we know the perfect event for you! Enter the world of Cloudberry Castle, an old castle made into a ballet school, where you can dance all day. Katie Mackenzie is delighted when her parents open Cloudberry School of Ballet, and with ghosts, auditions and ponies, there's never a dull moment! The Cloudberry Castle books are written by Janey Louise Jones who writes Princess Poppy.
If it's adventure you're after, we've got just the ticket. Lari Don will be giving a taste of the last adventure in her First Aid for Fairies series: Maze Running and Other
Magical Missions. Helen and the fabled beasts must race against time to find magical healing tokens to save the life of one of their friends. Come and hear Lari talk about the series in an event full of twists, turns, and a dragon or two. Lari will also be reading her latest picture book Orange Juice Peas to P1s, 2s and 3s in a fun-filled event packed with surprises.
Is your class visiting the festival? Some authors, like Gill Arbuthnott, will be part of the Schools Programme. Gill takes a trip to Edinburgh Zoo with her new picture book Lost at the Zoo. Wee mouse Rory is lost and asks the animals for help to find his owner. Will he ever be found? Gill promises a lively event full of great animal surprises!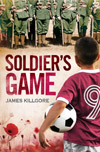 Go back in time with James Killgore as he talks about football, friendship and war. His book Soldier's Game tells the story of football mad Ross, who discovers that his grandfather Jack played for Heart of Midlothian FC before going off to war in 1914.

And last, but by no means least, Theresa Breslin promises an enchanting event, with her new book An Illustrated Treasury of Scottish Folk and Fairy Tales. Theresa will read some of Scotland's best-loved folk tales about selkies, kelpies, stoorworms and brownies.
Maybe we'll see you in August!
Posted by Benedicte at Discover Kelpies.
Explore the blog by category
Click to select a category.